Message From President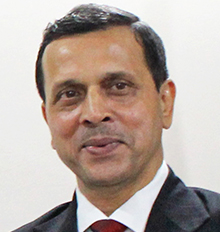 Dear Esteemed Colleagues,
New Year Greetings.
May 2019 be full of Peace, Prosperity and Happiness for you and your family.
I am indebted to every one of you for love and affection. I feel humbled, honoured and privileged to be leading ASI for the year 2019. Untiring efforts of our recent past Presidents brought ASI back on rails after a long period of turbulence. The winds of change with academics as the main line agenda are there for everyone to see. It is now time for the present leadership to en-cash the efforts of predecessors, take a giant leap of faith and transform the Association into an academic force to reckon with at the global level. I dream of a day when the world looks towards us for guidance and guidelines. The talent available in the country is the best in the world. All it needs is to connect the dots, synergize the efforts, channelize the energy and show the results. We are at a defining moment in the history of our association and "right steps in the right direction are bound to give us the right results". Leadership position at global level is the rightful place for ASI and is waiting for us to go grab it.
The Executive Committee has prepared, discussed and approved a Mission: 2019-21 document in the form of over 30 projects to be implemented across the country, each piloted by an EC Member with the support of entire ASI. This document is available on our website also (Click here). Kindly scrutinize it, give your precious inputs and lead its implementation across the country, as soon as possible.
23000+ members, working together shall make a difference!
The time to act is now….
Best wishes & kind regards, Long Live ASI.
Prof. (Dr.) Arvind Kumar
President
The Association of Surgeons of India