Social Security Scheme of ASI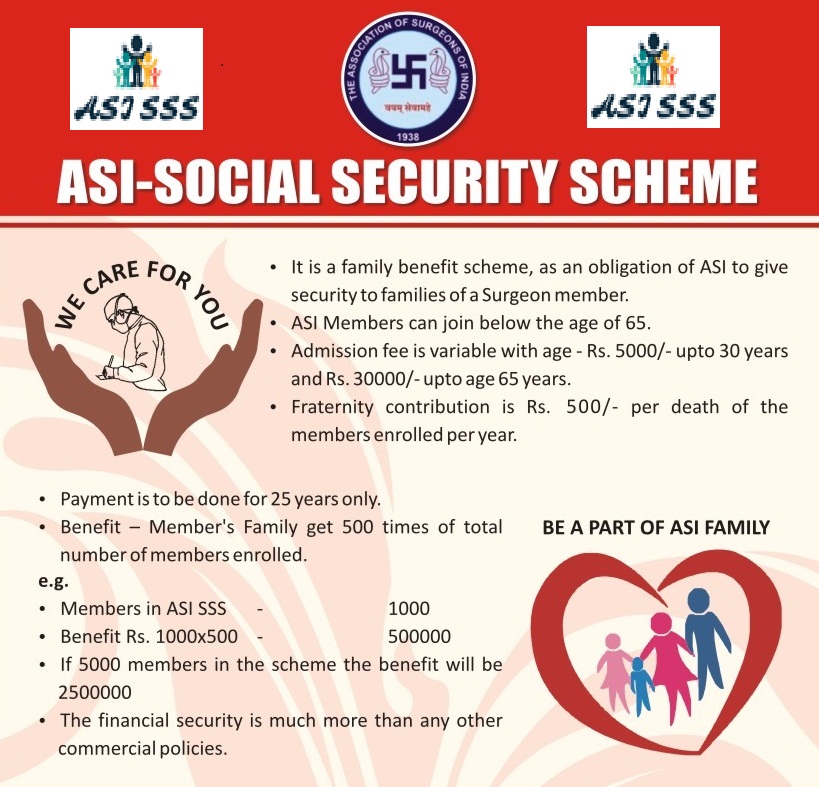 Benefits in Social Security Scheme of ASI
It is a family benefit scheme.
ASI gives security to families of surgeon.
No Insurance company is involved.
Members contribute and deceased family directly gets benefit.
ASI Members can join up to the age of 65 yrs.
No medical certification is needed to join the scheme.
At present, Admission fee is very low ranging with age – Rs. 5000/- upto 30 years and Rs. 30000/- up to age 65 years. Fees going to rise soon as these are discounted rates for Founder members.
Fraternity contribution per death is very low comparing to any Insurance scheme. Just Rs 500/- contribution per death. Payment is to be done for 25 years only. If no death occurs then there is no Fraternity charge.
Annual Subscription is Rs 1000/-. Member continues to pay till he/she lives.
Benefit — Member's Family gets minimum 500 times of total number of members enrolled.
Loyalty Bonus is applicable.
Early settlement of death claim within a month.
Documents like Death certificate, membership identity and the City branch Secretary's Recommendation are only needed for the claim.
E.g.
CALCULATION FOR A 42 YR OLD JOINING IN 2018
In 2018
( If 5 DEATHS )
In 2019
(If 3 DEATHS)

ADMISSION CHARGE

Rs 10000
XXXXXX

ANNUAL SUBSCRIPTION

Rs 1000/-
Rs 1000/-

FRATERNITY CHARGE @Rs 500/- PER DEATH

Rs 2500/-
Rs 1500/-

TOTAL PAYMENTS

Rs 3500/-
Rs 2500/-
Explore The Social Security Scheme of ASI
Social Security Scheme Constitution and Application Form
List of Members enrolled in ASI SSS up to 19th July 2018