Social Security Scheme of ASI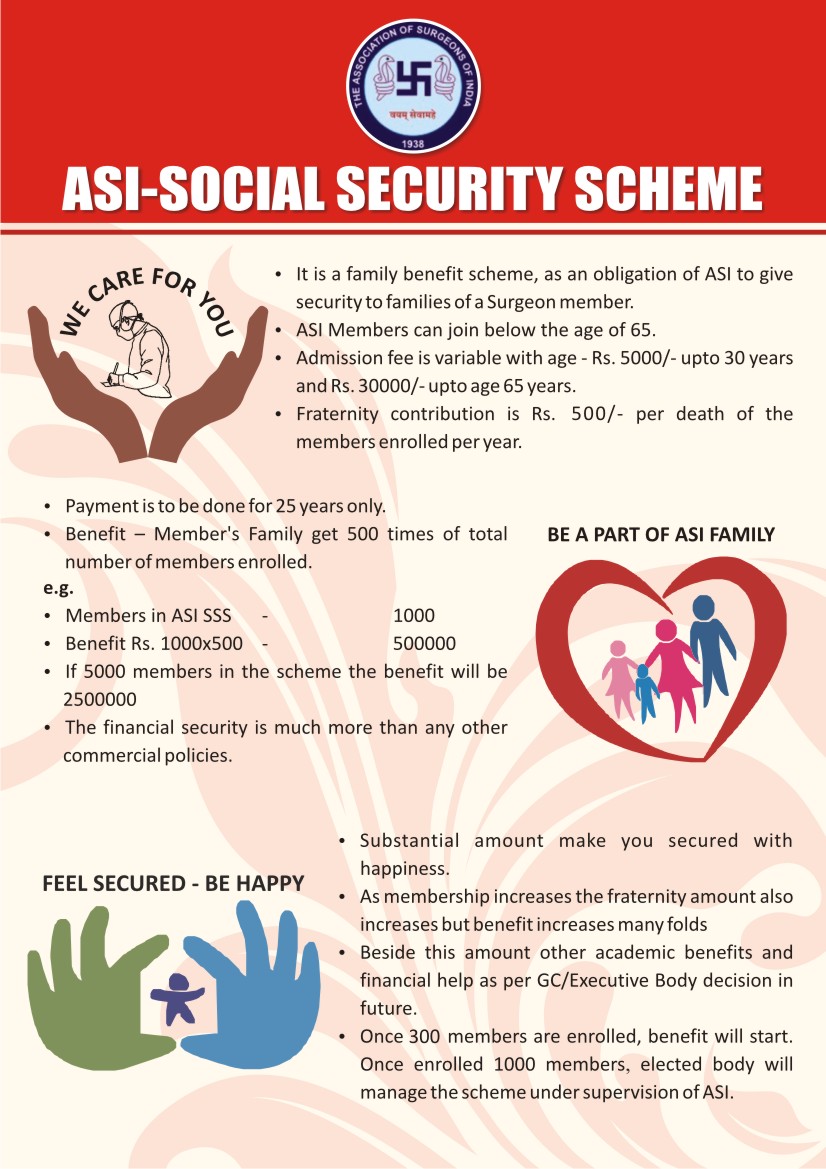 SECURE YOUR FUTURE with ASI SOCIAL SECURITY SCHEME
HIGHLIGHTS
Best Scheme offered by ASI in case of Untimely demise of a member.
Triple Benefit: Social Security cum Insurance cum Investment
No involvement of Insurance Company. So NO Fund Management Charges.
Only Full Life ASI Members can join below the age of 65 years.
Admission fee is variable from Rs. 5000/- to Rs. 30000/- as per age.
EARLY ENTRY, LESS ADMISSION FEE, MORE MEMBERS MORE BENEFIT.
PREDICTIONS: Contributing a total of One – Two Lakhs in 25 years to your fraternity becomes ONE CRORE PLUS for your Family.
PROCEDURE TO BECOME A MEMBER
Fill your personal details in ASISSS Form.
Attach copy of your PAN, Aadhar, Photo of self and Nominees.
One Time Admission Fee by Cheque / NEFT / Card. CASH NOT ACCEPTED.
Every year Member pays Annual Subscription of Rs. 1000/- and Fraternity Contribution of Rs. 500/- per death for a continuous 25 years.
BENEFITS
Sufferer's family gets 500 times of total members enrolled.
E.g. If 1000 Members in ASISSS in 2020, Benefit 1000 x 500 = Rs. 5 LAKHS
If 5000 Members in ASISSS in 2025, Benefit 5000 x 500 = Rs. 25 LAKHS
If 20000 Members in ASISSS in 2040, Benefit 20000 x 500 = ONE CRORE
LOYALTY BONUS ON SUCCESSFUL COMPLETION OF 25 YEARS.
MORE BENEFITS TO BE INTRODUCED AS THE SCHEME GROWS.
CALCULATION FOR A 42 YEAR OLD MEMBER WHO JOINS ASISSS IN 2019
In 2019
( NO DEATHS )
In 2020
(If 3 DEATHS)

ADMISSION CHARGE

Rs 10000
XXXXXX

ANNUAL SUBSCRIPTION

Rs 1000/-
Rs 1000/-

FRATERNITY CHARGE @Rs 500/- PER DEATH

XXXXXX
Rs 1500/-

TOTAL

Rs 11000/-
Rs 2500/-
Explore The Social Security Scheme of ASI
Social Security Scheme Constitution and Application Form
List of Members enrolled in ASI SSS till 24th October 2019