Message From President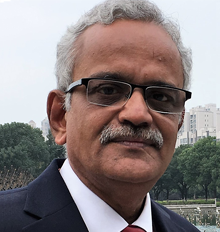 Dear Friends
I thank the 27 thousand plus membership of the Association of Surgeons of India for supporting my candidature for the post of President 2021. Having held the Governing Council (Executive Committee) post of the ASI from 2012 to 2018, I have seen downs and ups in the Association and held portfolios of Disciplinary Committee and Office of Joint Secretary (Office administration).
I always see the brighter side in life. The Association has made a lot of progress in administration, academics, camaraderie and social service. With onset of the pandemic, we have also seen what we can do at a short notice reaching to the surgeons and health workers with supply of PPEs and Sanitizers.
The Association through the leadership of Dr. Santhosh John Abraham (President 2015), Dr. Shiva Mishra (2017), Dr. Dilip Gode (2018), Dr. Arvind Kumar (2019) and Dr. P Raghuram (2020) have scaled newer heights every year. It is going to be a real challenge but with able membership and the executive, I am sure to satisfy you with the expectations of this raised bar.
Through these years some bold decisions were taken to implement honesty, integrity, ethics, regularize activities of ASI. Most have worked but some remain unresolved! Streamlining seems a necessity at the cost of a brickbat. I am ready for it.
A president is a position for 1 year. But as a Vice-President, if you remain closely associated with the happenings at the HQ, everything gets sorted with smooth transition. Decisions come in a proper flow. Dr. Raghuram has confided in me and the core office bearers – Dr. Sanjay Jain and Dr. Prasad; and we have collectively brought in several reforms in awards and orations etc. with the help of the EC. I am sure this will happen this year as well. The importance of IPP is no less. I expect Dr. Raghuram to help us in the future year with same zeal. I am fortunate to have the same Executive committee, many of them I worked with as an EC member. We therefore will be working with same wavelength. I welcome Dr. G. Siddesh as the Vice-President 2021 with open arms.
Coming to the academics, I have to place on record the contributions of members of the Executive – Dr. Pavnindra Lal, Dr. Roy Patankar, Dr. Probal Neogi, Dr. Abdul Quairishi, Dr. Mohan Prasad and others who contributed to the National Skill Enhancement Program. I expect the same enthusiasm this year and the future.
Dr. Santosh John Abraham – Director Academics, is a person whom I saw first time in 2013 during a closed EC and GBM that took place in Hyderabad at a venue close to the airport. He is a person with tremendous passion for ASI and stood like a rock of Gibraltar since 2013. I appreciated his stand then which have borne fruits now. I have recognized him as a relentless worker, tirelessly working for ASI not only through academics but behind the scenes advising every core office bearer including the President. I am grateful to him to have continued his services for the betterment of ASI as a whole and academics in particular.
I am hoping to work with the editorial board of Indian Journal of Surgery headed by Dr. Sandeep Kumar and also Social Security Scheme members, Dr. Khandelwal, Dr. Kaushik Shah and Dr. Shalab Gupta who have put in efforts like never before.
The Head Quarters is staffed with Mr. Gopi Kannan at its helm, ably supported by support staff and leaves no stones unturned in registration of membership, communication and are ready when asked at any time of day and night.
COVID-19 has been an eye-opener. Looking at positives
The EC meetings can be held on-line that will save a lot of money and also important decisions can be made at frequent intervals
ASICON 2020 was held successfully from comfort of homes. I understand that physical is better but more virtual academic programs can be contemplated.
This year, Prof. T E Udwadia (President 1988) was conferred the life-time achievement award and Prof. Snehalata Deshmukh (President 1990) delivered a fascinating keynote address. Both mentioned Seth G S Medical College and KEM Hospital, Mumbai in their address. I come from the same alma mater where I entered as an undergraduate in 1976 and will superannuate in 2021. I am proud of these Institutes that have given the Association of Surgeons of India a total of 12 Presidents by name and 13 by year (Dr. R N Cooper holding the post in 1944 and 1964). The ethos and culture that these Institutes have taught me will steer me further.
I hope and pray to live up to your expectations
Long live ASI
Dr. Abhay Dalvi
President, The Association of Surgeons of India