Indian Association of Surgical Gastroenterology
President
Dr. Venkatramani Sitaram
MBBS; MS; FRCS (G)
Senior Consultant in HPB Surgery,
Tata Medical Center,
14 Major Arterial Road (EW)
Newtown, Rajarhat
Kolkata – 700156, West Bengal
Mobile: 8336904231
Email Id: vsr8287@gmail.com
Secretary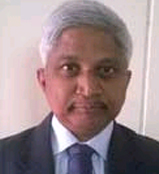 Dr. Pradeep Rebala
MS; MCh (Surg Gastro)
Address: Senior Consultant,
Department of Surgical Gastroenterology,
Asian Institute of Gastroenterology,
6-3-661, Somajiguda, Hyderabad – 500082
Mobile : 9866148661
Office : 91-40-23378888
E-Mail : iasgsecpradeep@gmail.com;iasgsecy@gmail.com
Upcoming Activities
Asian Institute of Gastroenterology, Hyderabad will be conducting PG Clinics and Mock examination for DNB and MCh (Surgical Gastroenterology) residents from March 4th to 5th.
Two faculty members from IASG will be representing IASG during the DDW 2017 in Chicago from May 6th to 9th.
IASG National Conference (IASGCON, 2017) will be conducted in Puducherry from October 5th to 8th.
IASG Sectional meeting during ASICON2017 in Dec.