Download Printable Format
Fellow of ASI(FAIS)
Please do not click on Submit button twice.
Once you click on submit button, wait for the details to be submitted. Clicking submit button multiple times may lead to multiple form submission.
FAIS Charges = 11,800/- (10,000 + 18% GST)-
Applicants are requested to make Demand Draft / RTGS Transfer as per the details given below :
Name of the bank A/C: ASI – FAIS a/c
A/C no: 0678 01 00 00 2259
Type of account: SB Account
Bank name: Bank of Baroda
Branch name:Triplicane
Branch Address of the Bank: Bank of Baroda, 280, Triplicane Branch, Chennai – 600 005
———
IFSC code: BARB0TIRUVA
MICR code / Branch code: 600012017
Payment Through QR Code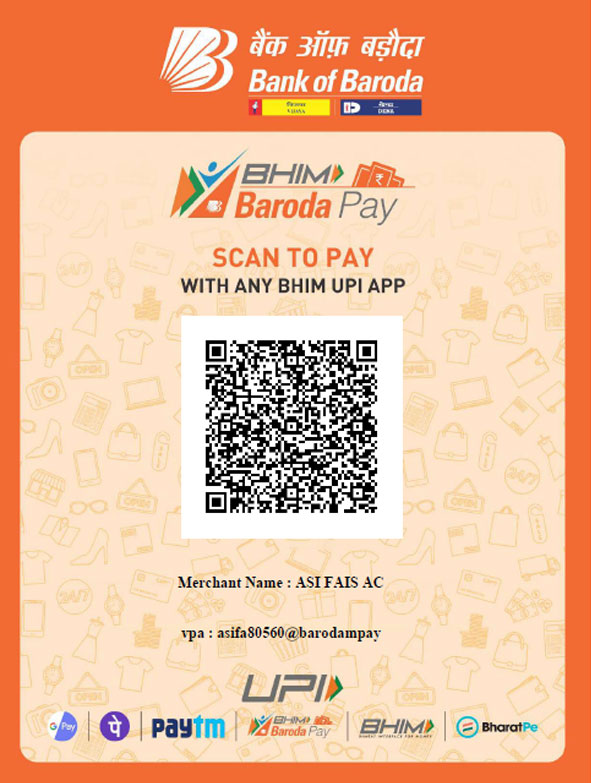 Rules and Regulations of the Fellowship
This Fellowship is known as Fellowship of Association of Indian Surgeons (FAIS). This can be written as a suffix after the name of the Surgeon. It would be given to a practicing Surgeon of Indian origin who practices Surgery in India or anywhere in the world.
Surgeons holding recognized post-graduate degree Qualification in Surgery or Surgical Specialty will be eligible.
After obtaining post-graduate degree in Surgery he has to be in active practice for a minimum period of 5 years. Only Full Life members of the Association are eligible to apply for this Fellowship.
Fellowship fee for Surgeons in India and SAARC Countries will be Rs, 11,800/- (10,000 + 18% GST) or equivalent. Surgeons with FAIS will be eligible to participate in all scientific activities of ASI by paying registration fees.
Duly completed application has to be forwarded along with a Demand Draft of Rs. 11,800/- by Indian Surgeons and Surgeons in SAARC Countries and US $ 500 for Surgeons outside India. The DD should be drawn in favor of "ASI FAIS" payable at Chennai. Application form should be sent along with the Xerox copy of Graduation Certificate and post-graduation Certificate and copies of other relevant Certificates.
Final selection for the Fellowship candidate has to appear before the Credential Committee during December at ASICON Venue.
No exemption is given from appearing before the Credential Committee.
Instructions for Filling up Aplication
Fill all items in Chronological order.
Each items on the application form must be filled. If there are no details to be given, mention "Nil" or Not "Applicable" as the case may be.
Affix one autographed photograph in the place provided in page.1. Include one additional photograph for use in the FAIS attested photo copies of all relevant certificates.
Mention all medical qualifications in (item 5) including Fellowship from other professional bodies. Please attach attested photo copies of all relevant certificates.
Items 8 refers to all Surgical Experiences gained after Post Graduation.
Attach additional sheet were needed.
Enclose a DD for Rs. 11,800/- or Transfer the amount by NEFT and attach the acknowledgement.
For any queries contact ASI head office.