BRIG.(Dr.) Rasamay Ganguly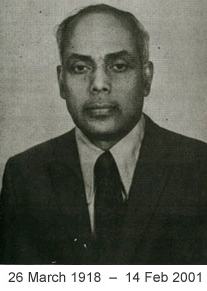 Brig. Rasamay Ganguly was born on 26 March 1918, in Barisal district of East Bengal (now Bangladesh). He completed his high school, from the Royal Jenkins School, Cooch Behar topping the exam for undivided Bengal. He joined the Calcutta Medical College, passed MBBS winning Gold medals and honours in every subject and finally topping the final MBBS exams. In 1943, Dr Panchanan Chatterjee invited him to learn surgery under him, which he did for the next one year. In 1944, Dr Rasamay Ganguly was commissioned in the Royal Army Medical Corps as a Captain, and was shipped off to North Africa. Captain Ganguly returned to undivided India, to work as a Surgeon in Multan (now in Pakistan), till 1947. However with the accession of Kashmir to India, Captain Ganguly was posted to Srinagar and later to Naushera. In 1950 he was posted to Jallandhar but was briefly shifted to the Command Hospital Calcutta.
In 1951, Captain Ganguly got married to Mrs Anima Ganguly.
In 1954, he was posted to AFMC Pune to start the Dept of Surgery. While on preparation to build the Dept., he cleared Primary FRCS exam standing first with distinction and won the coveted "Hallet Prize", the fourth Asian to have won this rare distinction which was presented by the President of the Royal College of Surgeons of England in a glittering function at Delhi. Later he went to London for Vascular Surgery training, at Guys hospital.
Simultaneously he passed the Final FRCS exams and was back at AFMC in 1957. Major Ganguly started Reconstructive surgeries there. In 1960, under the Colombo Plan, he went to Australia for a year to be trained under the doyen of Plastic Surgery Sir Benjamim Rank at the Royal Melbourne hospital. After a stint at Delhi, Lt Col. Ganguly was posted back to Pune as the Chief of Surgery of Southern Command and Professor of Surgery AFMC.
Brig. Ganguly delivered several important orations, including the Col Pandalai Oration, Dr Apte and Gilles Orations and at the "World congress of surgeons" at Australia and the "Military Conference" at USA. He was selected for the Dr BC Roy Award and was elected as the "President of the Plastic Surgeons Association of India".
On his retirement from the Army in 1975, he joined Poona Medical Foundation (popularly known as Ruby Hall) as Director and started the Dept of surgery there. In 1981 Brigadier Ganguly went to Nigeria, as Professor of Surgery in Ahmedu Bello University (ABU) and Consultant at St Gerad's Hospital at Kaduna.
Brig Rasamay Ganguly was an icon who truly believed in the equality of human beings and the spirit of inclusion. His students regarded him as an inspirational and helpful teacher, as well as a kind examiner who always tried to find out how much a candidate knew, rather than what he did not know. His working style was democratic and participative,astutely recognizing individual strengths and assigning appropriate responsibilities, while guiding and motivating them to deliver their best.
If one believes in the adages that "Service to others is the rent we pay for our room here on this earth", and "The success of a person is measured by the contribution to civilization that a person makes by serving humanity", Brig Rasamay Ganguly paid more than his share of rent and was a very successful man, who is truly an icon to be remembered.
At the ripe age of 80, Brig. Ganguly quit surgical work and came back to Kolkota. He passed away on 14 Feb 2001.
---
Important Note
As per the decision of the Executive Committee Meeting held on 28th & 29th March 2015, it was decided to make a limit for getting ASI awards for each person, and cooling period in between the awards.

There should be a minimum Cooling period of 3 years before the next oration is awarded to any one person, regarding Sealing & limitation of Orations is 2 orations each person excluding Col. Pandalai Oration
---
Rules and Application Form
---
| | | |
| --- | --- | --- |
| Dr. K.S. Shekar | Bangalore | 2002 |
| Dr. K.Mathangi Ramakrishnan | Chennai | 2003 |
| Dr. (Maj.Genl) P. Subhash | Palakad | 2004 |
| Dr. V.K. Kapoor | Lucknow | 2005 |
| Dr. Brig. N. Ray | Kolkata | 2006 |
| Dr. S. Rajasabapathy | Coimbatore | 2007 |
| Dr. Rajendra Ishwarlal Dave | Ahmedabad | 2008 |
| Dr. S.M. Bose | Chandigarh | 2009 |
| Dr. P.K. Bilwani | Ahmedabad | 2010 |
| Dr. V K Shukla | Varanasi | 2011 |
| Dr. Gen. Rajan Choudhury | Pune | 2012 |
| Dr. Surajit Bhattacharya | Lucknow | 2013 |
| Dr. Gaurav Agarwal | Lucknow | 2014 |
| Col (Dr) N Kannan | Pune | 2015 |
| Dr. Col. Kumud Mohan Rai | New Delhi | 2016 |
| Dr. Sudeep Naidu | Pune | 2017 |
| Dr. Ashok Kumar | Lucknow | 2018 |
| Dr. Shekhar Suradkar | Thane | 2019 |
| Dr. Pradeep Garg | Rohtak | 2020 |
| Dr. S V S Deo | Delhi | 2021 |
| Dr. Fazlul Qadir Parray | Srinagar | 2022 |
| Brig. Pankaj P Rao | Pune | 2023 |