Dr. A.K. Sen Sarma Endowment Lectures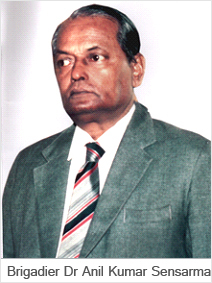 Brigadier (Dr.) Anil Kr Sensarma, AVSM was born at Limbaguri Tea Estate of Assam. He was the second son of late Dr Sukhendu Kr Sengupta. Dr Anil Sensarma showed his brilliancy in academics as well as in sports while he was a medical student at RG Kar Medical College, Kolkata.
Within few days after he passed MBBS with outstanding result he lost his father. To give financial support to the whole family he joined the service in 1952 at Police Hospital, Kolkata keeping aside his desire to have higher studies. In 1953 he joined Army Medical Crops as Lieutenant. He then availed study leave from Army Corps and did his post graduate training in Surgery from AFMC, Pune. Later he received FRCS (England) and FRCS (Edinburgh).
Dr Sensarma was married to Dr Urmila Roy, a Gynecologist. He was an eminent surgeon and surgical gastroenterologist in the Army Medical Service. He was loved and respected immensely by his colleagues, juniors and patients. His helping attitude to his fellow men made him very popular in the Army circles. Since his student days, he was involved in many social and philanthropic works. While he went for a relief work to Assam, a boat on river Brahmaputra turned down. Then he took the great risk to save many of the sinking co-passengers. For his devotional service to Army he was accorded with Ati Vishistha Seva Medal (AVSM) by the Honb'le President of India. He retired as Brigadier from Command Hospital, Kolkata in the year 1984. He lost his wife in the year 2001. He expired 2 years later on 6th April 2003 leaving behind his only son.
---
Important Note
As per the decision of the Executive Committee Meeting held on 28th & 29th March 2015, it was decided to make a limit for getting ASI awards for each person, and cooling period in between the awards.

There should be a minimum Cooling period of 3 years before the next oration is awarded to any one person, regarding Sealing & limitation of Orations is 2 orations each person excluding Col. Pandalai Oration
---
Rules and Application Form
---
Dr. A.K. Sen Sarma Endowment Lectures
| | | |
| --- | --- | --- |
| Dr. V.N. Shrikhande | Mumbai | 2006 |
| Dr. Gautam Sen | Mumbai | 2007 |
| Dr. Arvind Kumar | New Delhi | 2008 |
| Dr. Sanjay Sharma | Mumbai | 2009 |
| Dr. Shailesh V. Shrikhande | Mumbai | 2010 |
| Dr. Brijesh Mathur | Ajmer | 2011 |
| Dr. H Ramesh | Cochin | 2012 |
| Dr. Samir Misra | Lucknow | 2013 |
| Dr. Ramesh Agarwalla | Kolkata | 2014 |
| Dr. Fazl Qadir Parray | Srinagar | 2015 |
| Dr. Sanjiv Haribhakti | Ahmedabad | 2016 |
| Dr. Gyan Chand | Lucknow | 2017 |
| Dr. Pawanindra Lal | New Delhi | 2018 |
| Dr. Diptendra Kumar Sarkar | Kolkata | 2019 |
| Dr. Subodh Varshney | Bhopal | 2020 |
| Dr. Sanjay Kumar Bhasin | Jammu | 2021 |
| Dr. Niranjan Agarwal | Bhayander | 2022 |
| Dr. B. Ramya | Chennai | 2023 |