Dr. Das Mahopatra Oration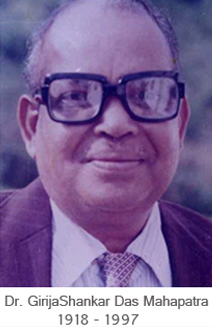 Dr. Das Mohapatra was born in 1918.
Dr. Mohapatra had his undergraduate Medical Education at the Prince of Wales Medical College, Patna, Bihar and passed MBBS securing the 1stposition in the Patna university in 1942. He also completed the Masters in Surgery from the same institution and University in 1945. He then went to United Kingdom for further training and became a Fellow of the Royal College of Surgeons of Edinburgh in 1947.
Dr. Mohapatra, joined SCB Medical College, Cuttack,Orissa in 1946 as Assistant Professor of Surgery and over a period of time elevated to the rank of Professor and then as Head of Department of Surgery. He worked as Principal of SCBMedical College, Cuttack, Orissa and finally retired from Government Service as Director of Medical Education of Odisha.
Dr. Mohapatra was a very versatile Surgeon, an outstanding Teacher of Surgery, an able administratorwith Foresight, a lovable person, a Poet, a Writer, a Social Worker, Lover of Nature and above all a good Human being.
He had visited several Medical Colleges in the country as Visiting Professor to teach diseases of Rectum and Anal Canal.International Board of Proctology honorably recognized his contribution in the said surgical field by conferring upon him the degree of "Regent of the International Board of Proctology. Dr. Mohapatrawaas actively involved in the activities of 'Indian Association for the advancement of Medical Education'. He was awarded Dr. PremnathWahi Lectureship during the year 1987 at Ahmedabad.
His black-board drawings while teaching surgery to students were superb and lively.
He was a life member of The Association of Surgeons of India and played a decisive role in formation of The ASI ,Odisha Chapter. He was the Organizing Ohairman of ASICON 1994 held at Cuttack
In consideration of his tremendous contribution to the growth of surgery in this country and in recognition of his academic excellence, The ASI instituted an Oration in his name in the year 1996.
---
Important Note
As per the decision of the Executive Committee Meeting held on 28th & 29th March 2015, it was decided to make a limit for getting ASI awards for each person, and cooling period in between the awards.

There should be a minimum Cooling period of 3 years before the next oration is awarded to any one person, regarding Sealing & limitation of Orations is 2 orations each person excluding Col. Pandalai Oration
---
Rules and Application Form
---
| | | |
| --- | --- | --- |
| Dr. (Mrs) S.S. Deshmukh | Mumbai | 1996 |
| Dr. N.M. Gupta | Chandigarh | 1997 |
| Dr. John M.C.Macintyre | U.K. | 1998 |
| Dr. P.B. Desai | Mumbai | 1999 |
| Dr. S. Vittal | Chennai | 2000 |
| Dr. J.D. Wig | Chandigarh | 2001 |
| Dr. C.Suryaprakasa Rao | Nellore | 2002 |
| Dr. Shrihari Dhorepatil | Pune | 2003 |
| Dr. T. Vidyasagaran | Chennai | 2004 |
| Dr. C. Palanivelu | Coimbatore | 2005 |
| Dr. (Miss) Urmila Khanna | Kolkata | 2006 |
| Dr. John A.C.Thanakumar | Coimbatore | 2007 |
| Dr. Rajeev Sinha | Jhansi | 2008 |
| Dr. Santhosh John Abraham | Cochin | 2009 |
| Dr. Parveen Bhatia | New Delhi | 2010 |
| Dr. Ranbir Singh | Patna | 2011 |
| Dr. G R Verma | Chandigarh | 2012 |
| Prof. (Dr.) Arvind Kumar | New Delhi | 2013 |
| Dr. Manash Ranjan Sahoo | Cuttack | 2014 |
| Dr. M P Sreejayan | Calicut | 2015 |
| Dr. Rajan Saxena | Lucknow | 2016 |
| Dr. Deepraj S. Bhandarkar | Mumbai | 2017 |
| Dr. Shailesh Shrikhande | Mumbai | 2018 |
| Dr. Nisar A Chowdri | Srinagar | 2019 |
| Dr. Noor Topno | Shillong | 2020 |
| Dr. Kudige Jayarama Shenoy | Mangalore | 2021 |