Dr. P V Chalapathi Rao Memorial Oration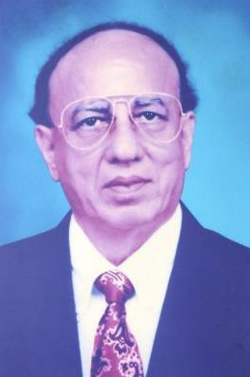 Professor P.V. Chalapathi Rao was born on 16 November 1928 in Machilipatnam, a port town in the State of Andhra Pradesh. Fondly referred to as "Dr.PVC Rao", he graduated from Guntur Medical College (1957) and completed his post graduation (MS) from Patna Medical College (1963).
He served the Government of undivided Andhra Pradesh for 20 years (1963–1983). At the age of 38, he was one of the youngest Professors of Surgery during his time and took voluntary retirement in 1983 whilst working as Head of Department of Surgery at Osmania Medical College – one of the prestigious Centres of excellence in the Country. He later worked as Chief Surgeon in Abha (Saudi Arabia) for 6 years (1983–1989) and as Chairman of the Durgabhai Deshmukh Hospital for well over a decade (1991–2002), where he championed a number of innovative initiatives to help the poor and needy patients. His final professional journey was a very satisfying 14-year term as Director, Medical Education at KIMS Hospitals in Hyderabad, which is one of the largest Corporate Hospital groups in South India (2004–2017). During his tenure at Durgabhai Deshmukh Hospital & KIMS Hospitals spanning over 26 years (1991–2017), he served selflessly without taking any remuneration.
Prof. Rao made exceptional contribution towards imparting knowledge through the annual Continuing Surgical Education Programmes (CSEP) that he successfully implemented all over India during his 6-year term as Governing Council member (1986–1991) of ASI. He is widely credited to have popularized 'Highly Selective Vagotomy (HSV)', an operation that was performed for peptic ulcer in late 1970s and 1980s. He was referred to as 'HSV Rao' for propagating this technique all over India. In addition to publishing several articles in peer-reviewed journals, he contributed eleven chapters in four textbooks of Surgery.
He played a pivotal role in the formation of Indian Association of Surgical Gastroenterology (IASG), a Section of The Association of Surgeons of India and was unanimously elected to serve as its President (1991 – 1992). He was the very first Surgeon from Telangana and Andhra Pradesh to have served as President of ASI (1994). He played a key role in resolving the enormous financial crisis arising out of construction of the auditorium at ASI Head-Quarters in Chennai, which was considered to be a major achievement during his Presidential term. 12 monthly organ-specific zonal CMEs were held for the first time in ASI throughout the country during his Presidency, and equally, for the first time ever, organ-specific CME instructional courses were held on all the days of the Annual Conference (ASICON 1994) held in Cuttack.
Prof. Rao was conferred the prestigious Dr. B. C. Roy National Award in 1995, which is the highest honour that can be achieved by a doctor in India. In 2009, he was conferred Fellowship ad hominem by the Royal College of Surgeons of Edinburgh (RCS Ed), which is the highest level of recognition that is bestowed upon select few surgeons by RCS Ed worldwide. In 2011, he was conferred the ASI Lifetime achievement award, which is is highest recognition bestowed by the Association for his lifetime contribution towards improving the art and science of Surgery in India for well over five decades.
A philanthropist par excellence, all through his life, he gave back to the society. He contributed much of his savings to develop Ibrahimpur – the remotest village in Medak District in the State of Telangana, which has been adopted by his family. Since April 2016, a number of life-transforming initiatives were spearheaded in this hamlet and many of the landmark projects have been recognized with local, regional and national awards.
Prof. Rao loved to dress up and his trademark suits made him one of the most well-dressed surgeons of his generation. He is blessed with a distinguished family of doctors. He fell in love and spent a lifetime of 60 years with his spouse, Dr. Ushalakshmi, an equally well known Obstetrician & Gynecologist and a gritty gritty breast cancer survivor. His only son, Dr. P. Raghu Ram is a renowned Surgeon & former President of ASI. It is a matter of record that for the first time in the history of ASI, a "father-son duo" have both served as Presidents of ASI (1994 & 2020 respectively). His daughter in law, Dr. Vyjayanthi is an eminent Fertility Specialist.
All in all, Professor Chalapathi Rao had the great fortune of leading a healthy, happy, enriching, productive and contented life. On 22 November 2020, he left this world at the age of 92. The Association of Surgeons of India started an Oration in the memory of this distinguished past President of ASI in 2021.
---
Important Note
As per the decision of the Executive Committee Meeting held on 28th & 29th March 2015, it was decided to make a limit for getting ASI awards for each person, and cooling period in between the awards.

There should be a minimum Cooling period of 3 years before the next oration is awarded to any one person, regarding Sealing & limitation of Orations is 2 orations each person excluding Col. Pandalai Oration.
---
Rules and Application Form
---
---
Dr. P V Chalapathi Rao Memorial Oration
| | | |
| --- | --- | --- |
| Dr. Vinayak Nagesh Shrikhande | Mumbai | 2021 |
| Dr. N Ananthakrishnan | Puducherry | 2022 |
| Dr. Peush Sahni | Delhi | 2023 |