Dr. Ramesh Nigam Memorial Oration
Dr. B.C. Roy & Padma Shri Awardee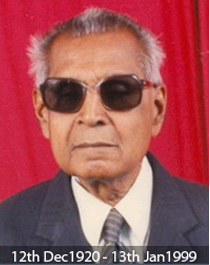 Dr Ramesh Nigam was born on 12th December 1920. Dr Nigam had to interrupt his undergraduate studies at Guy's hospital during World War II and joined King George Medical College, Lucknow from where he passed MBBS (Hons) winning the prestigious Lt Governor Sir John Hewett Gold Medal in 1942. Dr Nigam took his MS (Hon) in Surgery in 1944 and MD (Pathology) in 1945,both from the same Medical College, a testimony to his deep interest beyond the call of surgery. After training in the United Kingdom he was admitted to the Royal College of Surgeons of England in 1946. He was honoured with FACS in 1958.
He started his professional and teaching career at King George Medical College, Lucknow where he worked for four years as Assistant Professor. Dr Nigam served the armed forces for a while as Captain. He was extremely academic and positive in approach. He was also peculiar to have had Head light on his forehead even during rounds. He used to operate large number of cases of PYONERPHROSIS with full authority. He was very popular as administrator as well as teacher.
Dr Ramesh Nigam moved to Nagpur Medical College to serve as Professor for 11 years. In 1959 he moved to Delhi as Professor of Surgery at the Maulana Azad Medical College, New Delhi.
Tragedy struck in 1961 when he suffered a retinal detachment. By 1963 he became blind in both eyes. He was only 44 years of age. Undeterred he continued teaching surgery. In a rare gesture, the Government appointed him as Special Professor and Student Counsellor.His wife and students kept him updated by reading from the journals. Later he learnt braille and touch typing . He directed research on organ transplantation and vascular surgery. He served as Associate Editor of the Indian Journal of Surgery for 20 years, published a book "A companion in surgical studies" Dr Ramesh Nigam was a member of the Governing Council of the Association of Surgeons of India. He was conferred Dr B.C Roy award in 1964 and was decorated by the Govt. of India with Padma Shri, one of the highest civilian awards of the land in 1972.
Dr Ramesh Nigam breathed his last on 13thJanuary 1999.
His daughter Dr Madhuri Nigam was a Professor of Cardiothoracic Surgery at New Delhi.
The Association of Surgeons of India instituted an Oration in the memory of Dr Ramesh Nigam in 2002.
---
Important Note
As per the decision of the Executive Committee Meeting held on 28th & 29th March 2015, it was decided to make a limit for getting ASI awards for each person, and cooling period in between the awards.

There should be a minimum Cooling period of 3 years before the next oration is awarded to any one person, regarding Sealing & limitation of Orations is 2 orations each person excluding Col. Pandalai Oration
---
Rules and Application Form
---
| | | |
| --- | --- | --- |
| Dr. V.K. Kapoor | Lucknow | 2002 |
| Dr. N.S. Murali | Chennai | 2003 |
| Dr. K. Rajeev Sinha | Jhansi | 2004 |
| Dr. Sushila Sripad | Kolkata | 2005 |
| Dr. T. Vidyasagaran | Chennai | 2006 |
| Dr. Dinesh Pratap | Jhansi | 2007 |
| Dr. H. Ramesh | Cochin | 2008 |
| Dr. Sudheer Pandey | Lucknow | 2009 |
| Dr. Ashok Kumar Gupta | Mumbai | 2010 |
| Dr. Bindey Kumar | Patna | 2011 |
| Dr. Sanjay S Negi | New Delhi | 2012 |
| Dr. Anand Kumar Mishra | Lucknow | 2013 |
| Dr. Kim Mammen | Ludhiana | 2014 |
| Dr. Kim Mammen | Ludhiana | 2014 |
| Dr. Puneet Dhar | Cochin | 2015 |
| Dr. Sanjay De Bakshi | Kolkata | 2016 |
| Dr. Subodh Varshney | Bhopal | 2017 |
| Dr. Randeep Wadhawan | New Delhi | 2018 |
| Dr. B N Mohanty | Cuttack | 2019 |
| Dr. Kumkum Singh | Ajmer | 2020 |
| Dr. Sham Lal Singla | Rohtak | 2021 |