Message From President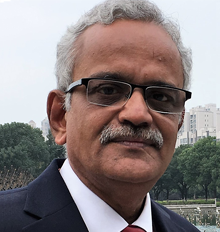 Dear Friends
Greetings from the ASI HQ! We pen this message with great pain that COVID-19 has struck us the second time and more virulently. With major cities like New Delhi and Mumbai seeing a steep rise and so are the other states, we are back to square one with newer challenges facing the healthcare sector. Shortage of beds, including in ICU settings, shortage of oxygen is pushing us into facing challenges beyond our control. Hopefully, with self-discipline, we will overcome this too.
Association of Surgeons of India (ASI) did all in its capacity last year under the undisputed leadership of Dr. Raghu Ram by rendering help with PPE kits, Sanitizers etc. with great success. We must go on record the contributions of many State Chapters and Sections and individual donations helped ASI to raise more than a crore of rupees! The state governments now have ensured regular supply of these items. We could now help with our services in whatever way we can to help COVID affected patients and at the same time stay away from this monster. Guidelines were issued in 2020 and are available on the Association website. Please follow them and avoid catastrophe.
The HQ work is on schedule under Dr. Sanjay Kumar Jain, the Hon Secretary and Dr. C R K Prasad, the Hon Treasurer. The Website is being updated with latest information as desired by many members. Various awards for 2021 and Orations for 2022 are uploaded on the website. The ASI handbook 2021 is almost ready and will be uploaded on the website soon.
The Association has carried forward the academics with special focus on the lost operative experience by the postgraduates. The National Skill Enhancement Programme (NSEP) focused on the same with series of video lectures were beamed every Wednesday. To take a break, Dr. Santhosh John Abraham, the Academic Director came up with a unique app-based quiz – MemBrain and will go through the month of April. We will restart the NSEP in May 2021. The Regional Refresher Course (TYSA) will be held on schedule in a different exciting format.
The Annual Conference of the Association was scheduled from 16th to 18th December 2021 at Vishakhapatnam in physical format. The Organising Committee with Dr. P. V. Ramanamurthy as the Organising Secretary was all geared up. However, with the second wave of COVID-19, we may have to fall back on to a virtual platform. The final decision will be taken soon.
The Indian Journal of Surgery under the Editor-in-Chief Dr. Sandeep Kumar is doing well.
The Social Security Scheme has now crossed 1000-member mark. It is an excellent scheme and I appeal to all members to enroll as soon as possible.
With this information, we again reiterate that the second wave of COVID-19 is fiercer coupled with shortages. Please take your vaccine. Do not let your guard down even if vaccinated. Take care of yourself. Your near ones and your patients need you.
Jai Hind
Long live ASI
Dr. Abhay Dalvi
President, The Association of Surgeons of India