Padma Shri Dr. Jai Pal Singh
Padma Shri Awardee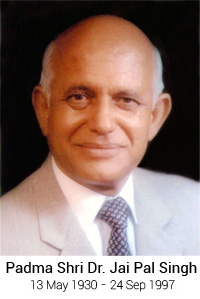 Dr. Jai Pal Singh was born on 13 May 1930 at Mhow, Meerut, U.P. Dr. Singh obtained his bachelor's medical degree in 1952 with a distinguished academic record from the third oldest medical college in India, the Sarojini Naidu Medical College, Agra, India – the same institute from where his father, Late Dr. Yogendra Singh, a doctor with what was then the British Army, graduated a generation ago. In 1950 Dr. Jai Pal married Ved Wati, 2nd of 6 children of Chaudhary Charan Singh, the late Prime Minister of India. After completing his post-graduate qualification in Surgery in 1955, Dr. Jai Pal Singh has served for nearly 35 years in Irwin Hospital, Dr. Ram Manohar Lohia Hospital, Safdarjang Hospital and University College of Medical Sciences, all at New Delhi.
Endowed with a rare quality of social awareness, Dr. Jai Pal Singh is an eminent surgeon who had carved for himself a prominent place as leader in the medical world of India devoted to finding solutions for the health problems peculiar to our country. His last official position from 1989 to 1992 was as Director of what was then Rohtak Medical College & Hospital in Haryana and is now Pt. B. D. Sharma PGIMS Rohtak, the only tertiary care and medical teaching facility in the state of Haryana, where he was widely acknowledged to be an outstanding and able medical administrator with an all-consuming concern for the urban poor and agriculturists who frequented this hospital.
He taught undergraduate and Postgraduate students and conducted research on subjects of relevance to the Indian Society. He has made many original contributions to surgical science, which received national and international recognition. His work on childhood burns, hernia, surgical nutrition and new operation for prolapse of rectum had received wide recognition. His contributions on kidney stones and motility studies on large intestines were landmarks in Indian Surgery. His work on amoebic liver abscess was published in American Journal of Surgery.
Dr. Jai Pal Singh had been Senior Surgeon in CGHS, Dr. Ram Manohar Lohia Hospital and Safdarjung Hospital; Consultant in Surgery, CGHS; Head of the Department of Surgery, Safdarjang Hospital and Dr. Ram Manohar Lohia Hospital; Post Graduate Supervisor, Teacher and Professor of Surgery, Unviersity College of Medical Sciences, New Delhi; and Medical Superintendent & Head of Surgery department, Dr. Ram Manohar Lohia Hospital, New Delhi. Dr. Jai Pal Singh was Director, Dean, Professor and Head, Department of Surgery, Medical College, Rohtak.
Dr. Jai Pal Singh was trained in Paediatric Surgery under the Colombo Plan in 1968 at the Hospital for Sick Children, Great Ormond Street, London. He had been to United Kingdom and United States of America on a WHO Fellowship to study the organization of Trauma Service, Accident and Emergency Department. He was invited by Royal Australiasian College of Surgeons to its scientific meeting held in Melbourne in 1984 to initiate discussion on "Large Bowel Cancer" in India. He attended and read papers at the 13th International Cancer Congress in Seattle, USA in 1982, and also attended the second European Cancer Congress at Amsterdam, Holland in 1983. He was invited by the Society of Surgeons of Pakistan in 1989 for an International meeting where he read paper on 'Kidney Stones'. He was also invited by International Gastroenterology Surgical Club to its meeting at Athens in 1990.
Dr. Jai Pal Singh had written a treatise on 'Newer Aetiopathological aspects of Urinary Calculi and means of preventing their recurrence', which secured him Hari Om Ashram Prerit Dr. S. Rangachari Research Endowment Award in 1986. He had published more than three score papers in indexed journals in India and in International Journals of repute.
Dr. Singh earned recognition for his work in surgery and had the honour of being appointed as Honorary Surgeon to two Presidents of India. He was Conferred with the Padma Shri, one of the highest civilian honours by the Government of India.
On 24th September 1997, Dr. Jai Pal Singh breathed his last. The Association of Surgeons of India started an Oration in the memory of this great surgeon in 1999.
---
Important Note
As per the decision of the Executive Committee Meeting held on 28th & 29th March 2015, it was decided to make a limit for getting ASI awards for each person, and cooling period in between the awards.

There should be a minimum Cooling period of 3 years before the next oration is awarded to any one person, regarding Sealing & limitation of Orations is 2 orations each person excluding Col. Pandalai Oration
---
Rules and Application Form
---
Dr. Jaipal Singh Memorial Orators
| | | |
| --- | --- | --- |
| Dr. Adarsh Chaudhary | New Delhi | 1999 |
| Not Awarded | ——— | 2000 |
| Dr. N. M. Gupta | Chandigarh | 2001 |
| No Awarded | ———- | 2002 |
| Dr. S.M. Chandramohan | Chennai | 2003 |
| Dr. B.S. Tiruvadanan | Chennai | 2004 |
| Dr. A. Zameer Pasha | Trichy | 2005 |
| Dr. Santhosh John Abraham | Cochin | 2006 |
| Dr. Sanjeev Misra | Lucknow | 2007 |
| Dr. Anil Agarwal | New Delhi | 2008 |
| Dr. Subodh Varshney | Bhopal | 2009 |
| Dr. R.K. Karwasra | Rohtak | 2010 |
| Dr. Pradeep Garg | Rohtak | 2011 |
| Dr. R. Dayananda Babu | Thiruvananthapuram | 2012 |
| Dr. K N Srivastava | New Delhi | 2013 |
| Not Awarded | ————— | 2014 |
| Dr. Vinay Kumar Kapoor | Lucknow | 2015 |
| Dr. B N Mohanty | Cuttack | 2016 |
| Dr. Shashank S Shah | Pune | 2017 |
| Dr. Anand Kumar | Varanasi | 2018 |
| Dr. A. Rekha | Chennai | 2019 |
| Dr. G S Moirangthem | Imphal | 2020 |
| Dr. Mallipudi B V Prasad | Hyderabad | 2021 |