Dr. K.N. Udupa Endowment Lecture
Padma Shri Awardee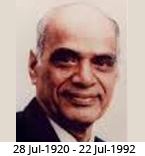 Dr. K.N. Udupa, an alumnus of Banaras Hindu University, has made the largest contribution to the development of the Banaras Hindu University in the post-Malavian era. His outstanding work, and more than that, his human qualities and futuristic vision, led to his being addressed as a second Malaviya.
Katil Narasimha Udupa descended from an orthodox Brahmin family of Madhawacharyas who, for a long time, served the temple of Udupi, Karnataka. Udupa's father, Sri Tammaya Udupa, was born in 1870, as one of three sons of Sri Rama Krishna. Narasimha Udupa himself was one of six sons and two daughters of Sri Tammaya Udupa. As a scholar of Sanskrit and Jyotish, his father wanted all his sons to adopt the same profession.
Young Katil Narsimha Udupa, however, opted a medical career against the wishes of his parents. He attempted to gain admission to the Integrated Ayurvedic Medical College of Madras, but did not succeed. However, a well-wisher, impressed by his talents and keen aptitude for a medical career, advised him to try BHU in Banaras where an integrated Ayurvedic College with a good reputation already existed. He also introduced him by a letter to one Prof. Dasannacharya who was then a Professor of Physics at BHU. He also told Prof. Dasannacharya that Narasimha was coming to BHU against the wishes of his parents and that there was nobody to support him financially. In 1936, the young Udupa came to Varanasi and Dasannacharya kept him in his family and arranged his admission to BHU's Ayurvedic college.
Udupa passed his final AMS examination in 1943. His quest for knowledge had driven him from Varanasi to Mumbai, and, after additional training, he proceeded to the USA where he completed his M.S. at the University of Michigan in 1948 under the patronage of Professor of Surgery, John Alexander, to whom he had been introduced by his mentor, Colonel Mirajkar, a noted surgeon in Lahore. Later, during the same trip, he completed his F.R.C.S in Canada.
Returning to India after independence in 1949, he married Nurse Lila, whom he had met in Mumbai and in 1952, they were blessed with an only child, Anjali.
Because of his Ayurvedic background, and in spite of his MS and FRCS degrees, Udupa was denied an appropriate job, but in view of his very special caliber advanced surgical training abroad, he was appointed a surgical specialist and Civil Surgeon in the Mandi District of Himachal Pradesh, where no other surgeon wanted to work. Excellent performance led to his being offered a better posting in Simla. Declining this, he returned to the USA to work with J. Englebert Dunphy, the renowned surgeon at the Harvard University School of Medicine in Boston from 1954 to 1956. Udupa returned to India again in 1956, taking up the post of Civil Surgeon in Simla, which he had earlier declined. Benevolence, dedicated services to the people, and surgical competence made him very popular among the people of Himachal Pradesh. His reputation thus reached higher circles in central government, and he was asked to work on policy making missions of the Ministry of Health and Family Planning of the Government of India. In June 1959, Prime Minister, JawaharLal Nehru, forced Dr. Udupa to return to BHU as Professor of Surgery and Principal of the Ayurvedic College.
Dr. Udupa converted the Ayurveda College into the "College of Medical Sciences" with the mandate to start MBBS course in modern medicine, and a postgraduate course in Ayurveda, leading to an M.D. Ay degree in Ayurveda, replacing the integrated ABMS course. The College of Medical Sciences was soon recognized by the Medical Council of India as well by the British Medical Council. Only Dr. Udupa's charismatic personality and strength of his vision could have made this possible. These qualities together with his sincerity, missionary zeal, and ability to materialize his dreams were tangibly visible, and always present to come to his aid. In 1972, due solely to Udupa's efforts, hard work and selfless lobbying, the 'College of Medical Sciences' was upgraded to become the 'Institute of Medical Sciences" and Dr. Udupa became the Founder-Director. Among his achievements was a separate Central Surgical Research Laboratory to cater equally for the needs of researchers from both modern medicine and Ayurveda.
Dr. Udupa was an excellent clinician, and a skilled surgeon whose scientific temper and human touch made him greatly loved by patients and professional associates alike. He performed all major surgeries including mitral valve surgery on the heart, traumatic surgery on the brain, and kidney transplants – including India's first kidney transplant in 1968. He was appointed Rector and Acting Vice Chancellor of Banaras Hindu University twice, in 1967 and 1981. On his superannuation on July 28, 1980, Dr. Udupa was appointed life-long Professor Emeritus and continued his time in his alma mater.
On 22 July, 1992, Katil Narasimha Udupa, the favorite of all, breathed his last after a fortnight of intensive postoperative care, in the same BHU hospital, which he himself had built and manned with so much love and dedication.
Dr. Udupa was thus a legendary figure in the making of BHU, probably number one after Mahamana-ji.
The Association of Surgeons of India started Dr. K. N. Udupa Endowment Lecture in 2008 in the memory of this Great Surgeon.
---
Important Note
As per the decision of the Executive Committee Meeting held on 28th & 29th March 2015, it was decided to make a limit for getting ASI awards for each person, and cooling period in between the awards.

There should be a minimum Cooling period of 3 years before the next oration is awarded to any one person, regarding Sealing & limitation of Orations is 2 orations each person excluding Col. Pandalai Oration
---
Rules and Application Form
---
Padmashri Dr. K.N. Udupa Endowment Lecturers
| | | |
| --- | --- | --- |
| Dr. V.N. Shrikhande | Mumbai | 2008 |
| Dr. J.D. Wig | Chandigarh | 2009 |
| Dr. Rajan Badwe | Mumbai | 2010 |
| Dr. Abraham Thomas | Ludhiana | 2011 |
| Dr. Sai Krishna Vittal | Chennai | 2012 |
| Dr. Anand Kumar | Varanasi | 2013 |
| Dr. C S Rajan | Bangalore | 2014 |
| Dr. K Jayarama Shenoy | Mangalore | 2015 |
| Dr. K N Srivastava | New Delhi | 2016 |
| Dr. Siddharth P Dubhashi | Pune | 2017 |
| Dr. C Khandelwal | Patna | 2018 |
| Dr. Roysuneel V Patankar | Mumbai | 2019 |
| Dr. Sanjeev Kumar Gupta | Varanasi | 2020 |
| Dr. Manas Kumar Roy | Kolkata | 2021 |