Prof. K. Krishnamurthy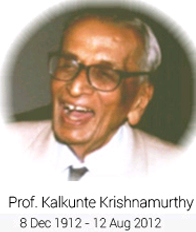 Prof. Kalkunte Krishnamurthy, popularly known as KK, Professor to many, doctor to his patients and guru to his students was born on 8 December 1912 to Mrs. Soundaramma and Dr. Srinivasachar, the popular ophthalmic surgeon of Minto Ophthalmic Hospital of Bangalore.
Prof. K. Krishnamurthy was the best outgoing undergraduate student of Mysore Medical College with the Arumugam Gold Medal. His exposure to Prof. Robinson from Mayo clinic during his early clinical days was an influencing factor to take up a surgical career. Destined to work in the Karnataka state health service at different places under trained Surgeons, his publication on "volvulus of stomach" in the Indian Journal of Surgery, got him conferred his membership in our association much before he got his postgraduate qualification in Surgery.
Soon after World War II, in 1947, he was deputed to Louverian University in France for higher training in Surgery. He secured MS from France and proceeded to UK and obtained FRCS Edinburgh. On his return he was posted to Victoria Hospital Bangalore in 1950. Later Prof. K. Krishnamurthy was posted as Clinical Professor of Surgery at Mysore Medical College and in 1959 he was posted to Hubli to establish the Surgical Department of Karnataka Medical College. He returned in 1962 to Bangalore Medical College. He was the founder Vice Chairman of Surgical Society of Bangalore, Joint Organising Secretary ASICON 1970, Organising Chairman ASICON 1985 and Patron for ASICON 1997, all held at Bangalore.
He continued as an active surgeon even after his retirement from Medical College service and was very active in all the surgical forums at Bangalore. Through the period which spans over seven decades of dedicated surgical practice of surgery, Dr Krishnamurthy witnessed the exponential growth of Surgery as a science. He was the first Surgeon to be awarded with the Life Time Achievement Award of Surgical Society of Bangalore. Prof. Krishnamurthy passed away after a brief illness on 12 August 2002. After his death, Surgical Society of Bangalore named its Medical Library and Information Centre after his name, in kind remembrance of his contribution and services to the surgical fraternity of Bangalore.
After the ASICON 1997, at Bangalore, the Organising Committee was instrumental in starting the Golden Independence Conference Commemorative Oration in ASICON in memory of the Annual conference of ASI after Fifty years of Indian Independence. The automatic choice was the name of the Patron himself. Incidentally the first Oration in his name was promptly attended by Prof. K. Krishnamurthy.
---
Important Note
As per the decision of the Executive Committee Meeting held on 28th & 29th March 2015, it was decided to make a limit for getting ASI awards for each person, and cooling period in between the awards.

There should be a minimum Cooling period of 3 years before the next oration is awarded to any one person, regarding Sealing & limitation of Orations is 2 orations each person excluding Col. Pandalai Oration
---
Rules and Application Form
---
Prof. K. Krishnamurthy Golden Independence Conference Commemorative Orators
| | | |
| --- | --- | --- |
| Dr. K.P. Sheka | USA | 2000 |
| Dr. V.N. Shrikhande | Mumbai | 2001 |
| Dr. K.R. Srimurthy | Bangalore | 2002 |
| Dr. H.S. Bhanushali | Thane | 2003 |
| Dr. Amrish J. Parikh | Ahmedabad | 2004 |
| Dr. K.S. Shekar | Bangalore | 2005 |
| Dr. Ramesh Ardhanari | Madurai | 2006 |
| Dr.(Mrs)K.Mathangi Ramakrishnan | Chennai | 2007 |
| Dr. R.N. Mangual | Berhampur | 2008 |
| Dr. K.S. Gopinath | Bengaluru | 2009 |
| Dr. Sanjeev Kumar Gupta | Varanasi | 2010 |
| Dr. P Raghuram | Hyderabad | 2011 |
| Dr. Rajesh C Shah | Ahmedabad | 2012 |
| Dr. Rajan Saxena | Lucknow | 2013 |
| Dr. Anil Agarwal | New Delhi | 2014 |
| Dr. Arnab Gupta | Kolkata | 2015 |
| Dr. M J Paul | Vellore | 2016 |
| Dr. K.Vivekananda Subramania Nathan | Chennai | 2017 |
| Dr. C S Rajan | Bangalore | 2018 |
| Dr. S Soppimath | Hubli | 2019 |
| Dr. K. Lakshman | Bangalore | 2020 |
| Dr. Puneet | Varanasi | 2021 |
| Dr. M Srinivas | Hyderabad | 2022 |
| Dr. Ashok S. Godhi | Belagavi | 2023 |