Prof. Santokh Singh Anand Endowment Lecturers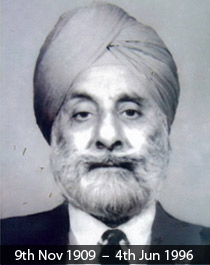 Dr Santokh Singh Anand was born on 9th November 1909 at Sibi in Baluchistan, in the present Pakistan. He graduated in Medicine in 1932, took Fellowship of the Royal College of Surgeons of England in 1939. He was honoured with FACS(1951),FCCP(1951) and FAMS(1960).
From 1943-1947, he worked as Assistant Professor of Surgery at the King Edward Medical College, Lahore, Pakistan. With India becoming independent, he moved into Amritsar, Punjab and held the position of Professor and Head of the Department of Medical College, Amritsar, Punjab from 1947 to 1962. He also had the administrative responsibility as the Principal of the College from 1958-1962. Dr Santokh Singh Anand was invited to the Postgraduate Institute of Medical Sciences at Chandigarh in 1962 on its inception where he worked as the Director and Professor of Surgery till 1969. His administrative skills were used at the PGI as its Founder Director, a position which he held from 1963 to 1969. After his retirement from PGI, Dr S. S. Anand became the Advisor and Secretary Medical Education for Government of Jammu & Kashmir from 1972 to 1975.
Dr Anand was the Huntarian Professor of the Royal College of England in 1956, Rock Fellor Fellow in 1961, visiting Professor to Royal Postgraduate Medical School Hammer Smith in 1967, Honorary Consulting Surgeon to Armed Forces of India since 1968 and Honorary Surgeon to many Presidents of India.
Dr Anand was Member of Medical Council of India, Chairman Board of Surgery of Indian Academy of Medical Sciences, Member ICMR and President of Selection Board of Union Public Service Commission.
"The fragrance of his teaching, the moral guidelines laid down by the great man of the yesteryears and his personality still pervade the atmosphere and shall continue to do so as long as the students are around. Great teachers leave this world and ascend to those immortal mansions above, whence all goodness emanates. They live always in the hearts, nay in the minds of those they taught."Wrote a student of Dr Anand.
Dr S.S Anand was President of the Association of Surgeons of India 1958.
He passed away on 4th June 1996.
An Endowment lecture was started by ASI in 2009 in the revered memory of Dr Santokh Singh Anand one of the foremost doyens of Surgery in India from the Medical College Amritsar and PGI, Chandigarh.
---
Important Note
As per the decision of the Executive Committee Meeting held on 28th & 29th March 2015, it was decided to make a limit for getting ASI awards for each person, and cooling period in between the awards.

There should be a minimum Cooling period of 3 years before the next oration is awarded to any one person, regarding Sealing & limitation of Orations is 2 orations each person excluding Col. Pandalai Oration
---
Rules and Application Form
---
Prof. Santokh Singh Anand Endowment Lecturers
| | | |
| --- | --- | --- |
| Dr. Ajmer Singh | Patiala | 2009 |
| Dr. S M Bose | Chandigarh | 2010 |
| Dr. Lalit Shah | Raipur | 2011 |
| Dr. Gurpreet Singh | Chandigarh | 2012 |
| Dr. G Raghavendra Prasad | Hyderabad | 2013 |
| Dr. Subhash Khanna | Guwahati | 2014 |
| Dr. R C Sreekumar | Trivandrum | 2015 |
| Dr. John S Kurien | Kottayam | 2016 |
| Dr. Saumitra Rawat | New Dlehi | 2017 |
| Dr. Deepak Thomas Abraham | Vellore | 2018 |
| Dr. Kaushik Bhattacharya | Siliguri | 2019 |
| Dr. Ramanuj Mukherjee | Kolkata | 2020 |
| Dr. D G Vijay | Ahmedabad | 2021 |
| Dr. Ramen Goel | Mumbai | 2022 |
| Dr. K Chandramohan | Trivandrum | 2023 |