test
Message From President
Message From President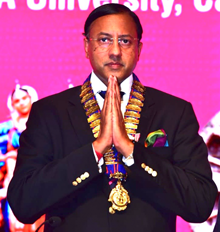 Dear Friends
Greetings from ASI Headquarters. My heartfelt gratitude for electing me to serve as your President for the year 2020. At the very outset, nothing gives me more happiness than to wish you and your family A HEALTHY & HAPPY NEW YEAR 2020.
With blessings of Lord almighty, and equally, good wishes from the Membership at large, I embarked upon an exciting journey, which in fact began in January 2018, with a year long Presidential campaign.
2019 was a year of preparation/keen observation coupled with undertaking a number of responsibilities as your Vice President at various ASI events and representing our Association at Overseas meetings.
Having extensively traveled & interacted with grass root Members across the length and breadth of the Country over the past couple of years, I shall do my very best over the coming 12 months as your President representing Asia Pacific's largest & World's second largest Surgical Association.
I reiterate my promise to ensure CREATIVE LEADERSHIP AND ACCOUNTABLE GOVERNANCE.
MISSION ASI (2019 – 2021), which encompasses a wide spectrum of initiatives and projects that were conceived, designed and championed by the National Executive Committee of ASI since the beginning of 2019 would be actively pursued during my term.
In addition, my primary goals in 2020, are essentially two fold.
1. "Surgical trainees are the future of ASI". Enhancing their knowledge base and improving their skills, shall be my first priority. Over the past six months, I have been silently working on giving shape to this goal.
FIVE Courses would be introduced for surgical trainees starting from January 2020, which will be held in various parts of our Country. Funding has been obtained to ensure Trainees are not burdened. Course details & Schedule would be available on ASI website in due course.
ASI COURSES FOR TRAINEES (2020)
ASI Basic Surgical Skills Course – ASISST (three days)
ASI Critical Care Course in Collaboration with University of Manchester (two days)
ASI Basic Laparoscopic Skills Course (two days)
ASI Anastomosis Skills Course (one day)
ASI Communication Skills Course (one day)
2. "Hands that serve are holier than the lips that pray". Focus upon Community service through our State Chapters & City Branches across the Country by adopting Villages for the welfare of our Community, shall be my second priority. India is predominantly a rural Country with close to 70% of population and workforce residing in Villages. It is therefore my wish and desire that every State Chapter/City Branch of ASI adopts a Village and undertakes initiatives that are "Village specific".
Conducting Surgical camps is not the only way to reach out. With personal experience of having adopted a Village in the remote part of the State of Telangana and championing life transforming initiatives over the past four years, which attracted National and international appreciation, I wish to share with you that as a first step, it is important to have several rounds of discussions with the adopted Village residents to identify projects that benefit them the most. Subsequently, after zeroing down on identified projects, funds must be raised locally and time bound execution can be achieved by working closely with the Village Sarpanch.
Finally, the recent Annual General Body Meeting has resolved to award ASICON 2020 – our Association's flagship 80th Annual Conference to Visakhapatnam (Vizag). The Conference would be held from 16 – 20 December 2020 in this picturesque beach city in Andhra Pradesh. For the first time in ASI's history, this would be an OCEAN FRONT CONFERENCE VENUE. Please do participate in what promises to be an "academic extravaganza" and an "away from it all" fellowship and relaxation – like never before! Over 1000 members have already registered at ASICON 2019. The Conference e-brochure is in preparation and would be sent across to members by email and the same will be posted on ASI website within a month.
In closing, look forward very much to the distinct pleasure of hearing from you and to your constructive suggestions.
Please feel free to email me [email protected]
At the end of my Presidential term, I have a wish – and that is to be remembered as a "People's President".
Seeking your active support and guidance…
Warm personal regards.
Yours, in service of ASI…

Dr. P. Raghu Ram
MS, FRCS (Edin), FRCS (Eng), FRCS (Glasg), FRCS (Irel), Hon. FRCS (Thailand), FACS
Padma Shri Awardee (2015)
Dr.B.C. Roy National awardee (2016)
President, The Association of Surgeons of India