Message From President – April 2020
Dear Friends
Greetings from ASI Head Quarters.
I am writing to update & share my thoughts regarding a few pertinent issues.
Philanthropy
At the very outset, my profound gratitude to YOU, and equally, State Chapters/Sections for the generous financial contribution. For the very first time in the history of ASI, we have raised over Rs 1 crore in record time to the ASI COVID 19 fund. Much of this money has been utilized towards procuring the much-needed Personal Protection Equipment. Arrangements have been made to get the PPEs sent directly from the manufacturer to our State Chapter representatives, who will be "hand delivering" them to the healthcare professionals that need them the most.
Part of this amount (around Rs. 25 lakhs) has been donated to the PM CARES fund directly by AMASI and a few ASI members. Heartfelt thanks are due to them as well…
ASI is championing yet another pan India charitable initiative. In partnership with AMWAY India, ASI will be providing hand sanitizers FREE OF COST in 16 Cities across the Country. In order to ensure transparency and prevent misuse, I have convinced CSR Head for Amway India and emphasized that distribution of Sanitizers must happen along the lines of "PPE distribution" which ASI is implementing in various States through our representatives.
A minimum of 600 sanitizers in each of the 16 Cities would be made available ONLY in COVID designated Government Hospitals. I have personally spoken to a named ASI representative in all the Cities, who have promised to coordinate the distribution of Sanitizers.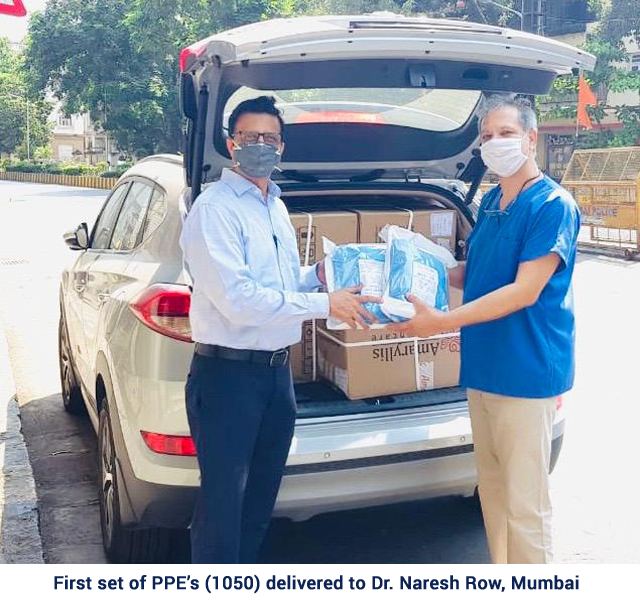 ASI Guidelines
There have been some suggestions to publish detailed ASI guidelines relating to the COVID crisis. There are several elaborate Guidelines that have already been published by WHO, Ministry of Health (Govt. of India), various eminent international Surgical organisations (like Royal Colleges, SAEGES, American College of Surgeons – to name few). A few Sections of ASI have also come out with 'disease specific' and 'procedure specific' guidelines. Many of these Guidelines are evolving and changing from time to time.
This matter was extensively discussed with the Chief Office Bearers of ASI and it was unanimously felt that publishing another set of extensive Guidelines by ASI would not help, and may in fact, add more confusion.
However, I am outlining below some basic principles that should govern our decision-making…
On a regular basis, please view online the Ministry of Health & Family Welfare (MOHFW)/ICMR Guidelines, which are updated from time to time. This is important…
Link : https://www.mohfw.gov.in
As the lockdown is extended, the Government of India's stand that elective surgeries should be deferred, remains. There is evidence emerging that there is up to 20% risk of complications in asymptomatic COVID positive patients undergoing Elective Surgery.
Elective setting
Please take all personal protection precautions in your OPD.
Counsel them about potential complications (20% risk of complications in asymptomatic COVID positive patients undergoing Elective Surgery)
Prepare and convince them to quarantine themselves for two weeks. If they remain asymptomatic during this period, unlikely that the patient is infected.
However, please bear in mind that up to 80% of COVID positive patients are asymptomatic or mildly symptomatic. After the lockdown is lifted, one can consider operating on such patients who have observed self-quarantine for two weeks (average incubation period of the virus).
Where feasible, RT PCR testing must be done for all patients requiring elective surgery (Govt. of India has recently passed an order approving this guideline). Please bear in mind, there is a false negativity of around 30%.
Risk of operating on COVID positive elective patients is significantly reduced with the above strategy.
Bottom line – to be safe, surgery must still be undertaken taking all possible precautions with PPE, regardless of test results.
Emergency/Urgent setting
Safest for healthcare professionals to presume the patient is potentially COVID positive and operate taking all possible precautions.
Ordinance – Violence against Medical profession
Over the past several months, ASI has been actively championing and engaging with the Prime Minister's Office and Ministry of Health to ensure that a Central law for Violence against the Medical profession is brought out. Once again, I have been very vocal on this issue in the national Media and written to the Hon'ble Prime Minister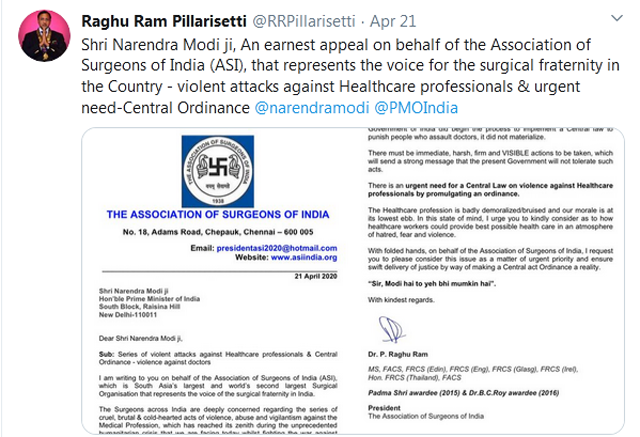 The much-needed Ordinance has now been promulgated. However, as this is an amendment to the Epidemic Diseases Act, it offers protection only to COVID specific Healthcare workers (Doctors, nurses and ASHA workers) whilst performing their duty during the epidemic. In the recent past, there have been consistent brutal acts of violence, abuse & vigilantism against "COVID Warriors", who are right at the forefront. Hence, this Ordinance is a great relief and moral boost to this section of our fraternity. We must be grateful to the Govt. of India and welcome it, wholeheartedly.
Considering that a Central law for violence against the Medical Profession could not be passed despite many efforts for a long time, this recent landmark Ordinance, in my opinion, is certainly a major positive step forward.
That stated, what are the next steps?
Transforming Ordinance to law must happen within 6 months and requires both Houses of Parliament to approve.
Efforts should be made to ensure a similar Bill is introduced in the Parliament relating to "non-COVID Healthcare Warriors" as well.
Central law that broadly covers all Healthcare Professionals is what we need – not just an "Epidemic amendment law" (which only applies to epidemics)
Let us remain positive and work alongside Federation of Medical Organisations (FOMA) to achieve the above-mentioned objectives in due course of time. There is certainly a "political will" and with the accumulated goodwill gained during the COVID crisis, I am very hopeful this is achievable.
Pleased to report that the COVID 19 awareness message that I was invited to convey by UNICEF has been posted on UNICEF India's social media pages. Within one week of being posted on UNICEF India's face book page, as of 1 May 2020, there are 45, 000 views 2, 300 likes and 538 shares. This speaks volumes of the social impact ASI has made during recent times…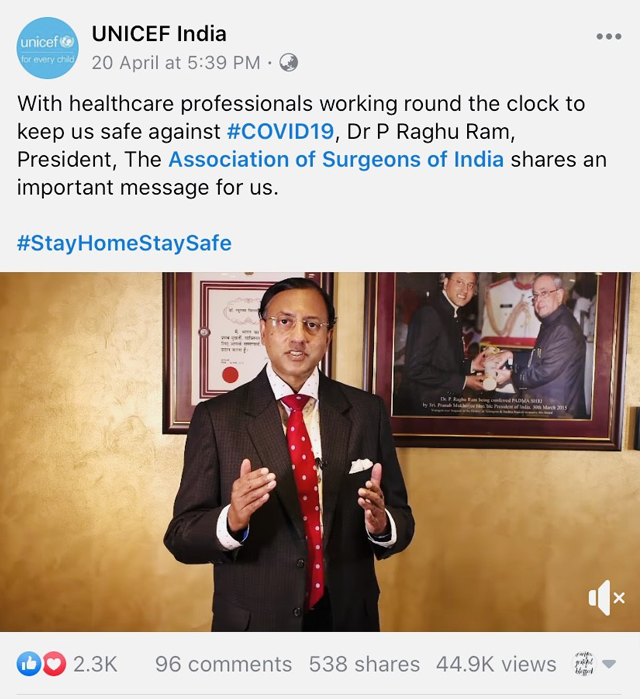 Click here to view the message – UNICEF India Facebook page
All along, I have been voicing my concerns forcefully on behalf of the Association on a regular basis. Enclose a LINK to all the awareness initiatives/campaigns/debates/opinions in mainstream media during the COVID crisis…
LINK
http://asiindia.org/category/covid-19/
In closing, the two line brief message summarizes my thoughts.
BE SAFE…KEEP YOUR FAMILY SAFE
Right now, nothing is MORE important…
Warm personal regards.
Yours, in service of ASI…

Dr. P. Raghu Ram
MS, FRCS (Edin), FRCS (Eng), FRCS (Glasg), FRCS (Irel), Hon. FRCS (Thailand), FACS
Padma Shri Awardee (2015)
Dr.B.C. Roy awardee (2016)
President, The Association of Surgeons of India