Dr. S. Rangachari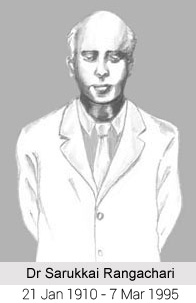 Diwan Bahadur Sarukkai Rangachari was a medical practitioner, Surgeon and Gynaecologist from the Madras Presidency.
Dr. Rangachari was born in a Vaishnavite Brahmin family of Sarukkai near Kumbakonam on 28 April 1882. His father Krishnamachari was an engineer who was involved in the construction of the Napier Bridge and the General Hospital, Madras while his uncle, S. Gopalachari was a distinguished lawyer who served as Diwan of Travancore. Rangachari studied at the Town High School, Kumbakonam and graduated from the Madras Christian College.
At the encouragement of two European surgeons Mr. Nibblock and Mr. Gifford, Rangachari joined the Madras Medical College in 1900 graduating in 1904. Dr. Rangachari joined the government service as an Assistant Surgeon in 1906 and served in Egmore, Hyderabad, Mayavaram, Tanjore, Negapatam, Kumbakonam and Berhampore. In July 1917, Rangachari was made the Deputy Superintendent of the Egmore Women's and Children's Hospital, the first Indian to hold the post. In 1919, he became surgeon and served till 1922, when he quit government service to set up private practice at Kensington Nursing Home on Poonamallee High Road.
Dr. Rangachari, initially, used a cycle and then, a motorbike to visit his patients. In the late 1920s, he purchased a Rolls-Royce Phantom I for Rs. 52,000. Later, he bought a Puss Moth aeroplane for Rs. 60,000 to travel quickly and easily around the Presidency. This got him the appellation "Flying Doctor".
Dr. Rangachari married twice, his first wife dying early. His second marriage to Kamalamma lasted longer but did not have any child to continue his legacy.
He would start his day at 4 am, performing varied surgeries until 11 am, followed by in and out patient clinics, after which he would make house calls. Often, he use to have his lunch in his car, a luxury he defended by saying that he practically lived in the vehicle. Dr. Rangachari was blessed with a wonderful constitution, that "from 1906, when he started, till his death on 24 April 1934, it was continuous, strenuous work of up to 18 hours a day for Dr. S. Rangachari." That constitution could not, however, stand up to the rigours he placed upon it during the typhoid breakout of 1934. Fighting hard against the sweep of the epidemic, Dr. Rangachari pushed himself to even longer hours, reaching out to more patients than anyone else thought possible. And so, when the disease struck the doctor, he succumbed to it, passing away at the height of his powers and popularity. The public of Madras subscribed to a statue in honour of this surgeon, which was unveiled by Lord Erskine, Governor of Madras, in 1939. That statue still stands near the exit gate of the General Hospital, shaded by a cupola with the inscriptions "…..Rare medical skills and boundless humanity".
His three students namely Lt. Col. C.R. Krishnaswami, Dr. R. Sankaran and Dr. V. Rama Ayyangar later made prominent marks in the medical field in the state of Madras.
"His benevolence and generosity were boundless. He set an example of indomitable resistance to assaults on his incorruptibility, and would not accept fees for the work he did as a Government doctor. If there was one defect in him, it was that he could not say anything harsh or stern. Extraordinarily quick and deft as a surgeon it was most pleasing to watch him do a version. Five feet ten inches in height, fair, he had finely-chiseled features, and shapely hands and long fingers, as though God had designed him to be a surgeon. When a smile hovered over his face, as it did often, he was irresistible. Added to these, his keen and penetrating intelligence, sound judgment, and quickness in decision-making, marked him out as a personality to be reckoned with. No matter where, he could always be picked out as a remarkable man. As a master to work under, there was none better. He would teach you many things he had himself learnt the hard way" – said his beloved student, Lt. Col. C. R. Krishnaswami.
In the year 1975, the Association of Surgeons of India started Hari Om Ashram Prerit Dr. S. Rangachari Research Endowment Awards in the revered memory of this great Surgeon philanthropist.
---
Rules and Application Form
---
Hari Om Ashram Prerit Dr. S. Rangachari Research Endowment Awardees
| | | |
| --- | --- | --- |
| Dr. (Mrs).Saroj Gupta | Varanasi | 1975 |
| Dr. Subir K. Chatterjee | Calcutta | 1975 |
| Dr.Atm Prakash | New Delhi | 1976 |
| Dr. (Mrs) Mathangi Ramakrishnan | Madras | 1976 |
| No Awarded | – – – | 1977 |
| Dr. P. Upadhyaya | New Delhi | 1978 |
| No Awarded | – – – | 1979 |
| No Awarded | – – – | 1980 |
| Dr. S.M. Gulati | New Delhi | 1981 |
| Dr.S.L. Johari | Bombay | 1981 |
| No Awarded | – – – | 1982 |
| Dr. R.L. Thatte | Bombay | 1983 |
| Dr. Kalpana Lakshmi Swaminathan | Bombay | 1984 |
| Dr. N. Rangabashyam | Madras | 1984 |
| Dr.H.S.Asopa | Agra | 1985 |
| Dr. S.P. Sane | Pune | 1985 |
| Dr.V.K.Agarwal | Indore | 1985 |
| Dr. Lalit K. Sharma | New Delhi | 1985 |
| No Awarded | – – – | 1986 |
| Dr. B.D. Pujari | Miraj | 1987 |
| Dr. J.P.Singh | New Delhi | 1987 |
| Dr. Govind Datar | Pune | 1987 |
| Dr. K.K. Maudar | Delhi Cantt. | 1988 |
| Dr. A.P. Chaukar | Bombay | 1988 |
| No Awards | – – – | 1989 |
| No Awards | – – – | 1990 |
| Dr. B.P. Mishra | Sambalpur | 1991 |
| No Awarded | – – – | 1992 |
| No Awarded | – – – | 1993 |
| No Awarded | – – – | 1994 |
| No Awarded | – – – | 1995 |
| Dr. Satish Kumar Shukla | Indore | 1996 |
| Dr. V. Bhattacharya | Varanasi | 1997 |
| Dr. (Mrs)Varsha N. Sagdeo | Nagpur | 1998 |
| Dr. Sanjay Oak | Mumbai | 1998 |
| Dr. Madhuri A.Gore | Mumbai | 2000 |
| No Awarded | – – – | 2001 |
| Dr. KM Pathi | Berhampur | 2002 |
| Dr. M.S. Ansari | New Delhi | 2003 |
| Dr. S.A. Subramani | Bangalore | 2004 |
| Nomination not received | – – – | 2005 |
| Dr. Prateek K. Mehrotra | Lucknow | 2006 |
| Dr. S. Rajasekaran | Coimbatore | 2007 |
| Dr. Adarsh Choudhury | New Delhi | 2008 |
| Dr. Priya Ramachandran | Chennai | 2009 |
| Dr. G.V. Rao | Hyderabad | 2010 |
| Dr. Vinod Jain | Lucknow | 2011 |
| Dr. Diptendra K Sarkar | Kolkata | 2012 |
| Not Awarded | ——- | 2013 |
| Dr. S M Chandramohan | Chennai | 2014 |
| Dr. K Chandramohan | Trivandrum | 2016 |