Membrain 2021
Dear Dr
Greetings!!!
The Association of Surgeons of India (ASI) in association with "tackl" presents "MEMBRAIN" – THE FASTEST BRAIN FIRST!
This is the Latest venture empowered by "tackl" app in conducting live quiz for surgical residents all over country.
"Tackl" is the new Learning app which is going to set a benchmark in Indian medical learning.
ASI has been very active in conducting various academic activities through the past years and is taking surgical learning into the next level in 2021 and beyond……
This is the biggest quizzing event in the entire country for a single medical speciality.
ASI has dreamt it and "tackl" has empowered it.
The schedule is as follows.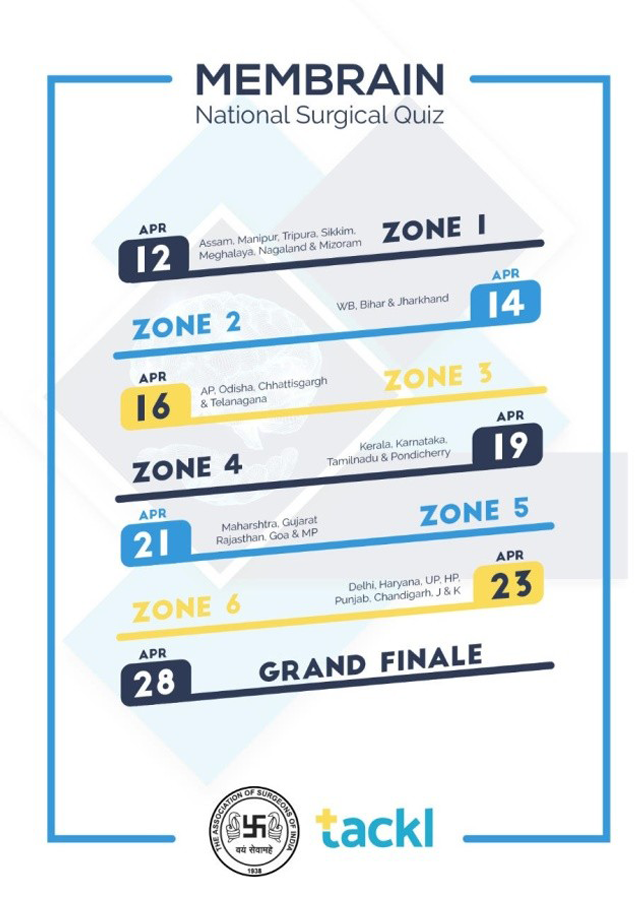 More than 600 registered PG teams will be competing for honours and huge prize money.
a. 1st Prize—– Rs 50,000/-
b. 2nd Prize—–Rs 30,000/–
c. 3rd Prize—–Rs 20,000/–
For the 1st time ever, Live Quizzing experience is extended to ALL the surgeons including Senior residents, MCh residents, Practising General Surgeons & Super specialists and to even Professors and Heads of Departments.
You can also be part of this exciting experience as a "spectator" and can have self-analysis.
Steps for your registration in SPECTATOR CATEGORY
Download "tackl" app from "Playstore"/ "Applestore"
Sign up with your mobile number
There are two Options
a) "I am the Spectator" / "I am here to view the quiz"
b) "I am participant "or "support a team option"-already CLOSED by enrolling the registered teams in their respective zones.
CLICK on "I am the Spectator" / "I am here to view the quiz" option
PLEASE DO NOT CLICK ON ""I am participant " or "support a team option"
You will be participating with a separate leader-board for you
"Spectators" with highest points in each zone will get prizes and toppers among the "spectators" from each zone will participate in the final rounds in the category of "spectators".
There

WILL BE

separate prizes in this category too!!!!!
Team members in one zone can participate in other zones as "spectators".
Every quiz will be held on the scheduled dates at 9 pm sharp on your registered mobile devices.
("tackl" app functions best on mobile screens. Kindly refrain from using other devices for an uninterrupted user experience) Kind regards.
Stay connected with our Instagram and Facebook community for further updates
BEST WISHES TO ALL PARTICIPANTS
Sincerely Yours,
Dr Abhay Dalvi
President
Dr Siddesh G
Vice President
Dr Sanjay Jain
Hon. Secretary
Dr Aashiq Nawal
Quiz Master "MemBrain"
National Quiz Champion ASICON 2018
Dr Santhosh John Abraham
Director, Academic Council
[email protected]