Fourth Online NSEP, Doctors Day – Wednesday 1 July 2020
Dear Friends
It is well and truly a pleasant coincidence that the FOURTH edition of online NSEP would be held on Doctor's Day.
Topic: How to insert a Central Venous Line
Date: Wednesday 1 July 2020
Time: 9 Pm
Speaker: Prof. Deborshi Sharma
Moderator: Prof. Satish Dharap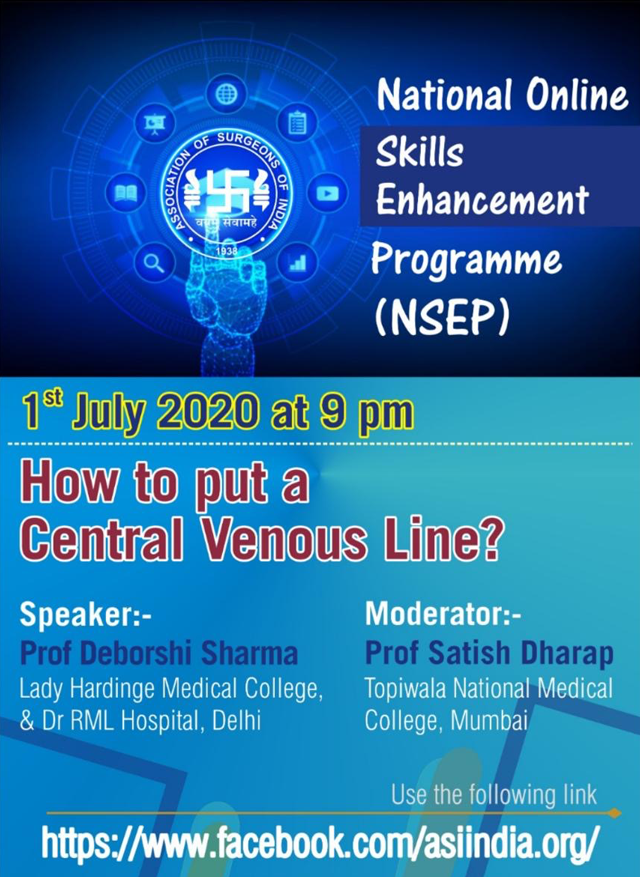 Clicking on the Link will take you to ASI's Facebook page.
https://www.facebook.com/asiindia.org/
As was done in previous weeks, questions during the Programme can be posted in the "comment box" on ASI's Facebook page. The Moderator will arrange for relevant questions to be answered at the end of the Session.
We request you to please spread the word around & encourage postgraduates & junior Colleagues in your Institute/region to actively participate in this landmark ASI initiative.
Please note: The same LINK shall be used for subsequent weekly Programmes as well.
Happy Learning!
Kind regards.
Sincerely Yours,
Dr. P. Raghu Ram
President ASI
Dr. Santhosh John Abraham
Director, Academic Council, ASI