ASI'S Sixth Online NSEP, Wednesday 15 July 2020
Dear Friends
There has been an overwhelming response to the online academic activities being undertaken by ASI.
ASI's recent Facebook page statistics…
Last week – 6-12 July 2020
36,742 people reached
6,664 Views
224 new followers
Pleased to enclose details relating to the SIXTH edition of online NSEP
Topic: How to do a Tracheostomy
Date: Wednesday 15 July 2020
Time: 9 Pm
Speaker: Prof. Vikas Singh
Moderator: Prof. D.K. Verma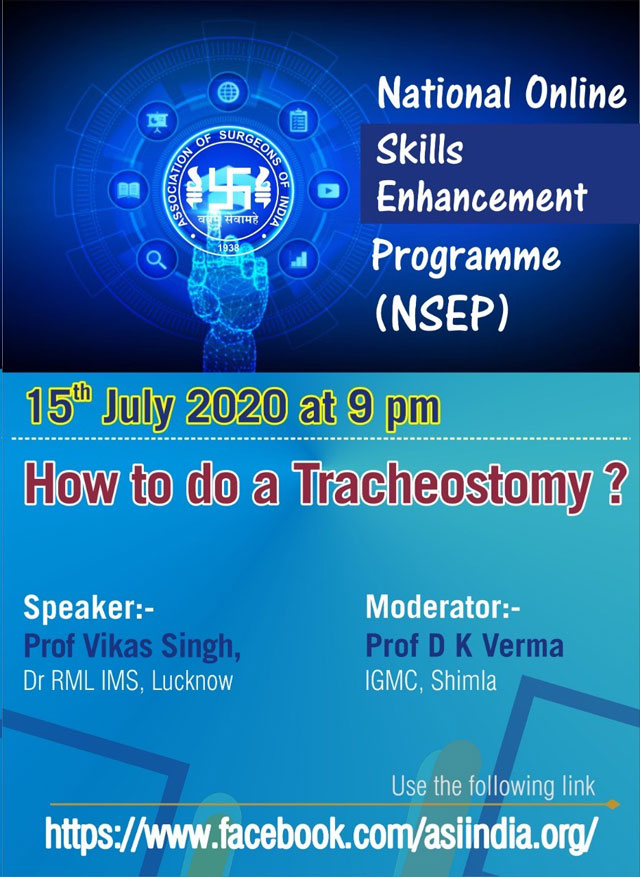 Clicking on the Link will take you to ASI's Facebook page.
https://www.facebook.com/asiindia.org/
Questions during the Programme can be posted in the "comment box" on ASI's Facebook page. The Moderator will arrange for relevant questions to be answered at the end of the Session.
Kindly spread the word around & encourage postgraduates & junior Colleagues in your Institute/region to actively participate in this landmark ASI initiative.
Kind regards.
Sincerely Yours,
Dr. P. Raghu Ram
President ASI
Dr. Santhosh John Abraham
Director, Academic Council, ASI