RRC Finals – A Week Long Educational Extravaganza – Not to be Missed
Dear Friends,
We are delighted to inform you that the final round of the ASI's flagship RRC 2020 would be held from 2 – 7 November 2020 between 9 – 11 pm.
Moving away from the tradition of just having Clinical cases for the final round, for the FIRST time ever since the RRC's were introduced, the Final round is all set to have assessment based upon a combination of clinical cases, Radiological images and virtual ward rounds. This will ensure a 360 degree assessment of the trainees.
The Programme would be live streamed to ASI's RRC 2020 Facebook page. Access to this dedicated page is restricted ONLY to ASI members including Postgraduate student members of ASI
As you are aware, the six rounds of RRC, which were held for the FIRST time ever on a virtual platform between August – October 2020, turned out to be a stupendous success. Well over 5000 trainees have been watching RRC's on a daily basis, which speaks volumes about ASI's successful academic initiative.
SOME FACTS…
RRC 2020 started off with initial pan India screening round – an MCQ Test – 30 questions to be answered in 30 minutes. This included six Segments, with five questions in each Segment (6 x 5 = 30 questions) & five OSCEs.
The Country was divided into SIX zones – SIX zonal RRCs were held between 10 August – 26 September 2020 – . Each Zonal RRC was held over a six day period with case presentations made by 18 trainees and 72 carefully chosen Examiners from the region. Three Judges from all over India were independently assessing the trainees throughout the week.
And so, SIX zonal RRCs held over one and half months had participation from 108 surgical trainees, 432 Examiners & 18 Judges. You can very well imagine how much of meticulous planning and extraordinary efforts have gone into making this flagship Programme of ASI a runaway success story…
This emailer is also a reminder request for those who have not yet registered. Registration is Mandatory to attend the final round of RRC, but is FREE to all, including Postgraduate student members of ASI (Associate members).
Please note that ONLY Registered members will have exclusive access to attend the final round of RRC (SIX DAYS), which provides an unrestricted platform for unique "pan India' exposure to teachers & teaching from all across the Country.
For those who have NOT yet registered, please use the link given below to Register for RRC 2020
https://bit.ly/2O3TqIt
The final round of RRC would be held between 9 pm – 11 pm from Monday 2 November to Saturday 7 November 2020.
FINAL RRC SCHEDULE (November 2020)
Monday

2nd

to Saturday

7th November

2020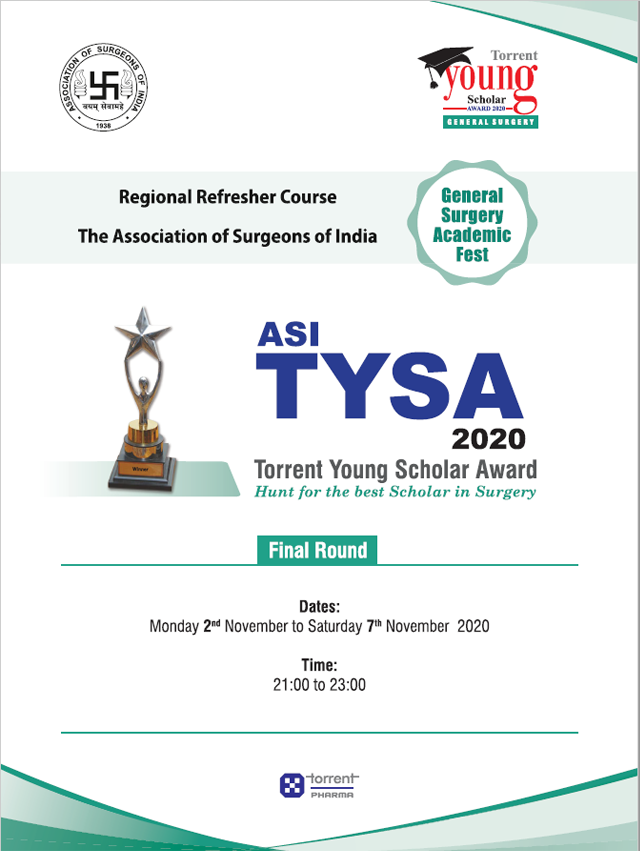 Surgical Residents are actively encouraged to become ASI Members to avail all the benefits of Membership of Asia Pacific's largest & the world's second largest surgical Organisation. Residents would be given Associate membership status, which would be automatically converted to full life membership with no additional charge after submitting the MS/DNB completion Certificate to ASI Head office.

Link to online Membership form is enclosed below
https://asiindia.org/member-application/

We request you to please forward this information to Colleagues & postgraduate residents in your region.

We also take this opportunity to remind you about THE FIRST EVER VIRTUAL ASICON 2020. More than 4000 registrations thus far… Hoping to cross 5000 registrations.
Kind regards.
Sincerely Yours,

Dr. P. Raghu Ram
President

Dr. Abhay Dalvi
Vice President

Dr. Arvind Kumar
Immediate Past President

Dr. Sanjay Kumar Jain
Honorary Secretary

Dr. C R K Prasad
Honorary Treasurer

Dr. Santhosh John Abraham
Director, Academic Council, ASI