Celebrating the Life of Dr. P.V.Chalapathi Rao, Sunday, 6 December 2020, 5 PM
Dear Friends,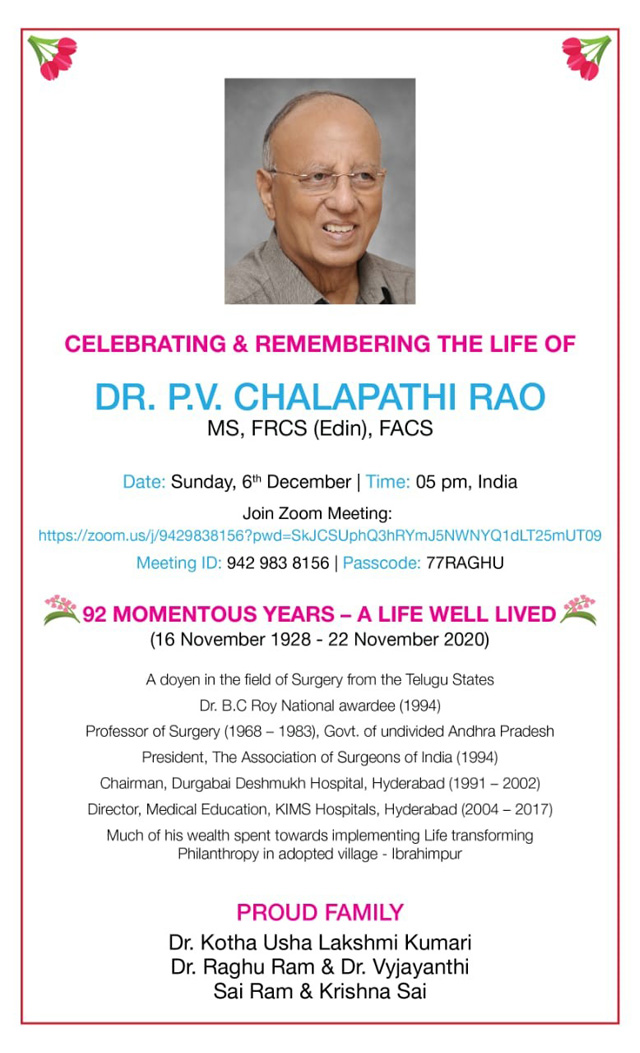 My dearest "Nanna" left this world on 22 November 2020.
"The greatest legacy that anyone can leave behind is to positively impact the lives of others". Nanna has been and forever will be my Best friend, Guide and Philosopher – a great soul who shaped my life and played a pivotal role in placing me where I am today.
He was blessed with a Healthy, Happy, Enriching, Productive & Contented life.
By the grace of Lord almighty, I had the greatest fortune of taking care of him when he needed me the most
A Virtual Meeting is being organised to celebrate & remember his momentous, eventful and glorious 92 years – a Life well lived….
If you are free, would be honoured if could join in…
Date: Sunday 6 December 2020
Time: 5 pm
Zoom Meeting LINK:
https://zoom.us/j/9429838156?pwd=SkJCSUphQ3hRYmJ5NWNYQ1dLT25mUT09
Meeting ID: 942 983 8156
Passcode: 77RAGHU
Warm personal regards.
Sincerely,
Dr. P. Raghu Ram

MS, FRCS (Eng), FRCS (Edin), FRCS (Glasg), FRCS (Irel),
FACS, Hon FRCS (Thailand), Hon FCSSL (Sri Lanka)
Padma Shri awardee (2015)
Dr. B. C. Roy awardee (2016)
President
The Association of Surgeons of India
www.asiindia.org